Significantly, Defence Humanists and Humanists UK will be represented at the annual National Service of Remembrance at the Cenotaph in Westminster for the first time in 2018, the centenary of the end of the First World War. This follows many years of campaigning effort and marks a symbolic shift towards the recognition of the contribution of non-religious personnel to the armed forces, and the increasingly prominent place of humanism in modern British public life.
Defence Humanists, Humanists UK, and affiliated groups have been active across the UK campaigning for inclusive civic Remembrance ceremonies. Following sustained pressure, more and more towns and cities are allowing humanist representatives to exercise their right to remember alongside religious representatives.
Last year, representatives of over twenty-one humanist groups from all over the UK participated in ceremonies to pay their respects and will be doing the same this year. Wreaths will be laid in London, Edinburgh, Belfast, Warwick, Birmingham, Sheffield, Oxford, Richmond and many other places besides. In 2016, for the first time humanists took part in a national, inclusive ceremony in London.
This year, as commemorations for the centenary of the end of World War I took place across the UK and in Europe, Defence Humanists Chair, Sqr Ldr Emily McCullough, participated in the ceremony in Ypres.
In 2014, Humanists UK's patron, Dan Snow, lead the memorial in Belgium. The Defence Humanists were also invited to take part in a service Plymouth, important as it is a naval city.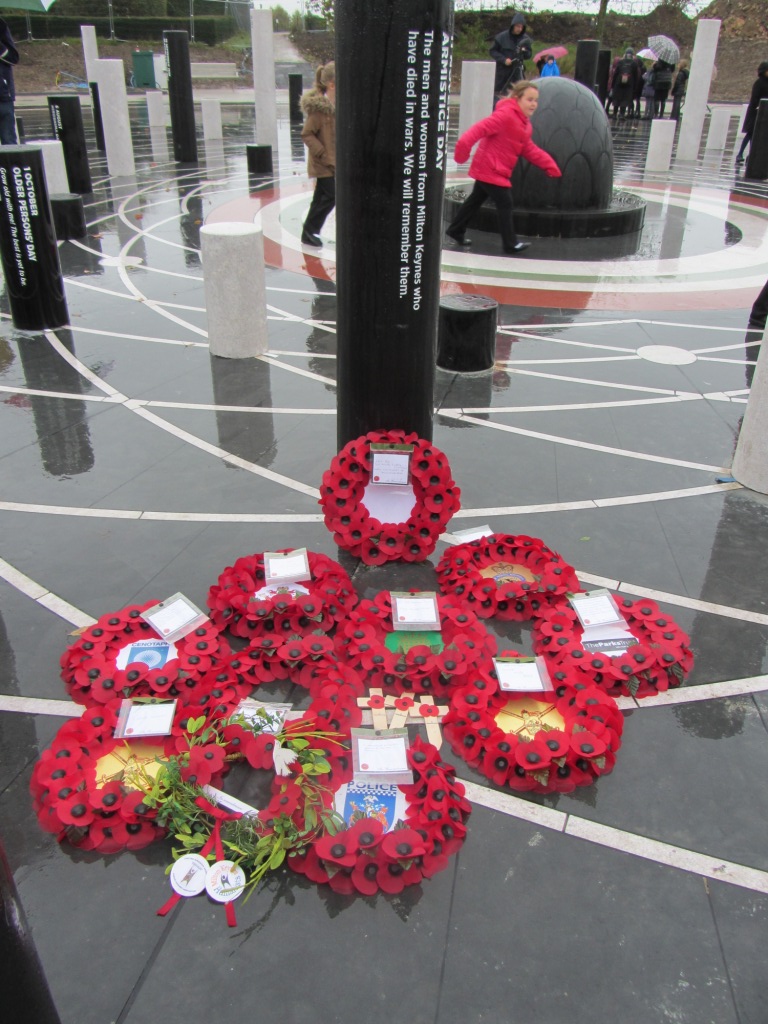 Below is a selection of photos and comments from these occasions. Full reports were in the Defence Humanists' regular newsletter, The Moral Warrior.
Milton Keynes
Andrea Quayle of the Milton Keynes Humanists felt that this might make a good site for a Humanist memorial Ceremony at Milton Keynes, so she made enquiries, and the following comment came from local planner John Moffoot: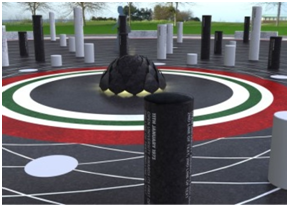 "The MK Rose is being specifically designed to be accessible to people of all religions and none. I think that it provides the ideal option for Milton Keynes Humanists. We will be unveiling the first column at a ceremony to take place from 10.45 on Friday 11 November, and to include a 2-minutes' silence."
The Milton Keynes Humanists decided to send a delegation to the ceremony, and this is Andrea Quayle's comment:
"Elaine, Val and I attended the unveiling of the first pillar of the MK Rose which celebrates Armistice Day. The Remembrance Day ceremony was truly and magnificently secular, attended by Quakers, Jews, Buddhists and maybe people of other unidentifiable faiths and none. It felt almost unreal, like the lifting of a great weight. Assuming that it remains the same, we are more than happy to participate in this ceremony in future."   
Charles Baily, Chair, Bedfordshire Humanists
"For the first time this year, a request from local Humanists to be allowed to lay a wreath at the annual Remembrance Day observance was granted.  I was happy to attend, along with a number of like-minded people. But my heart sank when I read the opening words of the Order of Service: 'We are here to worship Almighty God… and that the whole world may acknowledge Him as Lord and King.'  I wasn't. Nor, I suspect, were the group of Sikhs standing nearby. I was here to pay tribute to all those who lost their lives so that I and millions like me could enjoy the freedom and security that we have today."
Edinburgh Humanists
"A small group of very wet HSS members, family and friends took part in the Remembrance Sunday parade in Edinburgh this year – led by the sprightly Archie Beveridge (89) who carried the HSS/Defence Humanists wreath. Archie served with Ack Ack Command in the UK and then led a company of men and equipment (searchlight, radar and Bofors gun) through France, Germany, Holland and Belgium in WW2.  Marilyn Jackson said:
"It was wonderful to meet Archie at our October conference, when I announced that the Edinburgh Group had, after previous refusals, been invited to participate.  Indeed, Archie brought family and friends who made up half our number!
I'm so pleased that Archie found the experience a good one, in spite of the rain, and hopes to come back to Edinburgh next year to lead a larger HSS contingent."